Phil Hester
by Danilo Guarino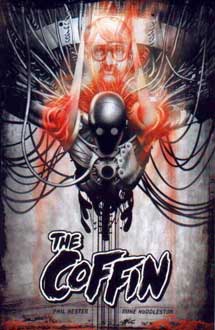 OK Phil, let's talk... How did you broke on comicdom?
1986 in America was the height of the black and white boom started by the Teenage Mutant Ninja Turtles. There were small publishers popping up everywhere and if you had even a little talent you could find work. I was 19 and in art school and had always wanted to make comics, so it was a perfect time for me.
You have work on some indipendent comics, before to work both for Marvel and DC. How is different to work with the two big of industry?
A little more financial security from working at the big two, of course. You must sacrifice a little freedom, but you also get a chance to work on some of the icons of your youth.
You are from two years the regular artis of Green Arrow . Have you read this characters when you were young? What's funny to draw a Green Arrow story?
I like all the "street level" heroes with little or no powers, like Batman, The Creeper, Daredevil, The Question, etc. I liked the Trevor Von Eeden & Mike Barr Green Arrow stories when I was a kid, Grell's Longbow Hunters came out when I was in college, and later I discovered the Neal Adams, Jack Kirby and George Papp stories. I love drawing his domino mask, but I hate the damn hat!
You have work with three different writers on GA.Smith, Meltzer, Winick; how much is difference they plot? Which of this writer you have more feeling or fun to realize their plot on the page?
Each has been excellent and they all have different strengths. Kevin's dialogue is superb and every issue felt like a major event. He made Green Arrow an important character again at DC, and that's no small task. Brad understands Oliver's character extremely well and he took him on an emotional journey most writers wouldn't be capable of. Plus, he's a total DC geek. Judd IS Oliver Queen. I tease him that if John Wayne were a liberal he would be Judd. Judd has a great grasp on the characters and will be putting them through their paces over the next few months.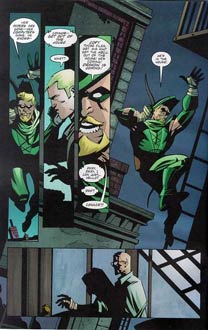 What could be your dream project?there is other character that you will like to draw in the future?
I love Ragman and The Question. I'd love to write and draw a book at DC. I also have many ideas for non-commercial graphic novels that I hope to do someday.
How is a working day of Phil Hester?
I am a house husband, so I feed the kids breakfast and get them off to school, then draw from about 9-3. Cook dinner, do dishes (glamorous, eh?), tuck wife and kids into bed and draw and write again until about 1 am.
With inker Andy Park you have work on a lot of series.it's really good to work with a friend inker?
He's my best friend and best inker. He knows what I'm trying to do with each line, but still manages to lend his unique voice to each drawing. I can't imagine working with anyone else.
What's the penciler that influenced you more?
Hard to say... It's my list: Kirby, Colan, Kubert, Miller, Eisner, Krigstein, Wood, Toth, Staton, Mattotti, Alberto Breccia, Munoz, Wrightson, Zaffino...quite a mess!
How is the project that give youmore satisfaction in this years of work?
I did a series called The Wretch for many years that sold very poorly, but I got to write and pencil every story and it was nominated for an Eisner Award. Plus, I wrote a series called The Coffin that was recently optioned by James Cameron for film that I'm very proud of. As far as super hero comics go, though, Green Arrow is my best so far.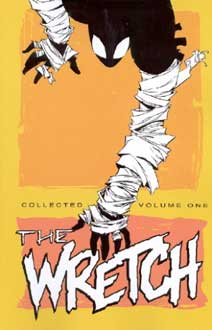 You have always dream to work as penciler? If not the penciler, what other thing you have think to do in the life?

I'd love to write and draw and also write for other artists. If comics ever went away I would paint and write "normal" fiction.

What do you remember to your Swap Thing wark with Mark Millar. Do you like to doing again some other things for vertigo?

I loved it. Mark and I were both far too young to be given such an important character, but we had a lot of fun. My skills were very low at the time, but I had loved that character since I was a boy, so how could I say no? I'd love to go back to Vertigo someday, hell, I'd love to draw Swamp Thing again now that I'm a better artist.

Upcomig project for the future?

Green Arrow takes all my pencilling time, but I'm writing a book for Oni called Deep Sleeper and another for Image called Firebreather.

Thanks! -Phil

The staff of AmazingComics.it would like to thank Mr.Phil Hester

for the generous contribution of his time and

energy!

(15/10/2003)

Click here for a complete view on AmazingComics.it exclusive interviews

or click here to visit the "English edition" page